25min Travel HIIT Workout
This post is sponsored by New Chapter vitamins & supplements; all opinions contained within are my own.
Guys- I'm writing to you from Bali! There is so much yoga here and the environment is very relaxing... but I also CRAVE a little high intensity. The workout below is absolutely PERFECT and I will 1000% be practicing this everyday.
I've been teaching bootcamp for close to two years now and I've adapted what I love from that 50min bootcamp class into something accessible, travel friendly, and that gives you an incredible burn.
I developed this QUICK, TOTAL BODY routine to have weight free options and burn about 500 calories per session! It's an absolute killer, but totally customizable to wherever you are in your fitness journey. Try this and let me know how it goes!
CIRCUIT 1
1. 100 Jumprope
If you don't have a jumprope, sub for jumping jacks or 'pretend' jumprope, jumping 100 times in place.
2. 75 Jumping Jacks
For extra challenge, draw your feet and arms out wider. To reduce the intensity, step one foot out at a time.
3. 50 Squats
Stand with your feet slightly wider than hips width apart, lower your hips until they come in line with your knees, keeping your torso and chest up right. Power through your heels as you exhale and straighten your legs and come up to standing. Option to hold a dumbbell between 10-20lb for a goblet squat. Again, think straight up and down, keeping your center of gravity over your feet, feet slightly more turned out.
4. 25 Push-ups
Modify by keeping your knees down. Or make it more challenging by coming up on your fingertips. Make sure you don't dip your hips down! Keep your spine straight and flat, hugging your elbows in as you draw your chest to the floor.
CIRCUIT 2
1. 150 Jumprope
If you don't have a jumprope, sub for jumping jacks or 'pretend' jumprope, jumping 100 times in place.
2. 75 High Knees
Run in place while drawing your knees up as high as possible. For extra challenge hold your palms in front of you, elbows in towards and ribs and tap your knees up to your palms.
3. 50 Front Lunges
Stand with feet hip-width apart. Step one leg forward and bend your knees, coming into a lunge. Make sure your knees are pointing straight forward. Alternate legs. Option to hold 5-10lbs per hand.
4. 25 Mountain Climbers
Start in a plank, hands shoulder-distance apart, arms relatively straight, fingers active. Keeping your hips low, tap one knee in towards your chest, then step it back. Do the same with the other side. For more challenge, run with your legs as if you were doing high knees, but keeping your palms planted on the floor.
CIRCUIT 3
1. 200 Jumprope
If you don't have a jumprope, sub for jumping jacks or 'pretend' jumprope, jumping 100 times in place.
2. 75 Butt Kicks
As you run in place, kick your heels up toward bum. To decrease the intensity, walk and tap your heel.
3. 50 Squats
One more round of squats! Option to hold 15-20lbs. Sometimes I like to make these kettle bell swings if I'm feeling extra spicy.
4. 25 V-Ups
Start in boat pose, balancing on your bum, legs in front of you. Lower down to a low boat, lower back coming down to the floor, then lifting back up to a high boat. Modify by planting your hands behind you for more support, or holding beneath your knees. Also an option to keep your legs straight the whole time!
That's it! It takes me about 22 minutes. If you need to stop and rest, do so between circuits. And of course, listen to your body. If you ever feel PAIN, especially in your lower back and knees, high intensity is not for you right now, and meet me back on the yoga mat :) — or work with a personal trainer to look at exactly what's going on.
Cool down with lizard, forward fold, pigeon, and puppy dog pose.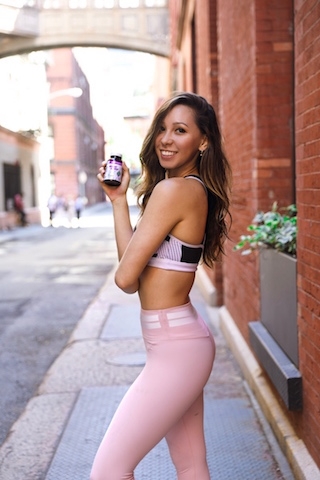 To speed up your recovery post workout, I recommend eating a meal (to take advantage of your revved up metabolism) and taking an herbal supplement such as Daily Workout + Recovery.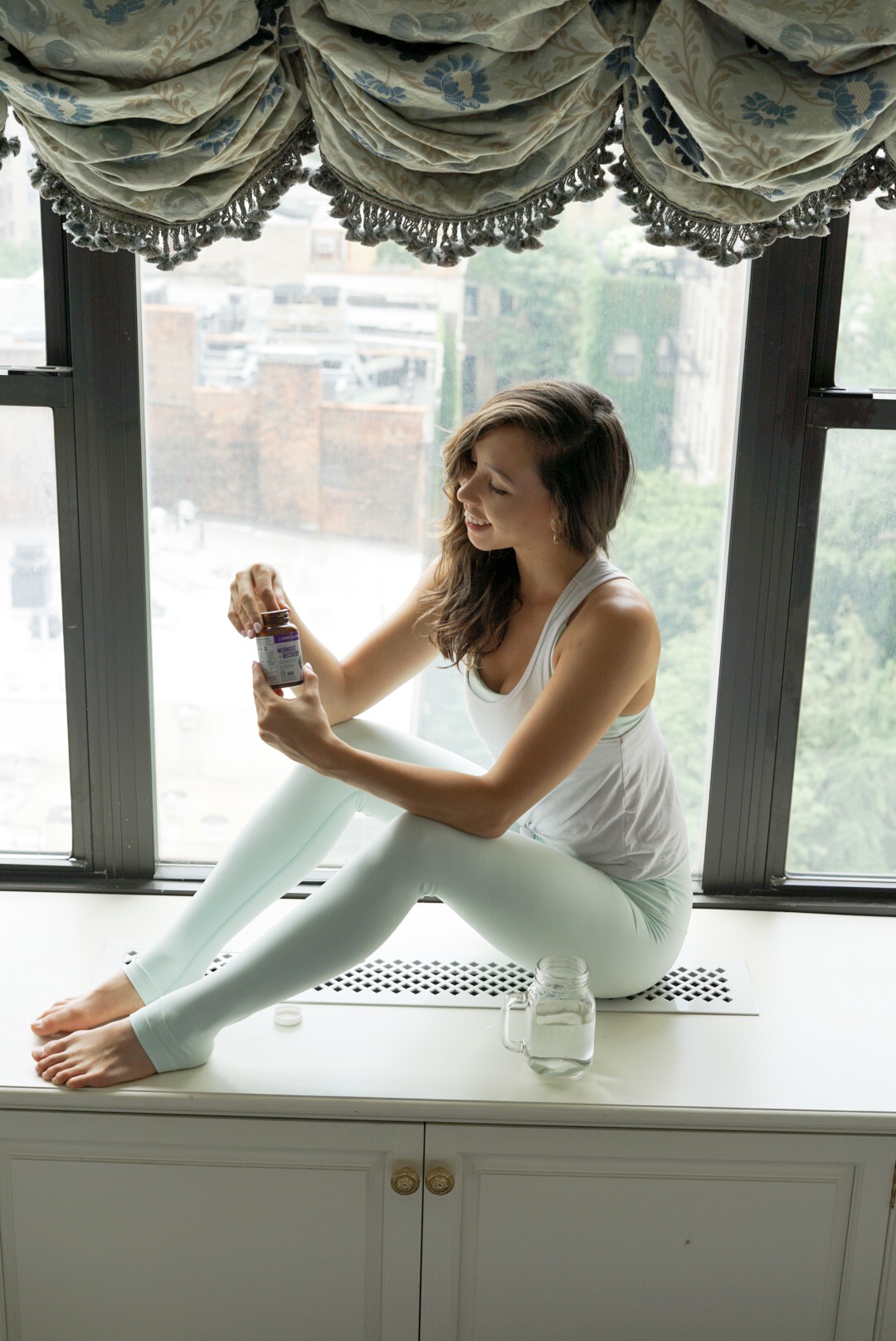 I like that Daily Workout + Recovery has a clinically studied dose of ginger that supports post-workout muscle pain relief.* It also has Astaxanthin, pure Cordyceps mushroom, organic Turmeric and Rhodiola. All of these herbs are highly potent and support your body in feeling great from the inside out.*
While I like to take mine after working out, Daily Workout + Recovery can also be taken anytime—it works best when taking daily.
Give this routine a try and let me know how it goes! Tag me in your workouts @emchenyoga
Much love,
Em
*These statements have not been evaluated by the Food and Drug Administration. This product is not intended to diagnose, treat, cure, or prevent disease. Always talk to your doctor prior to implementing anything new to your routine.